by Gloria Wendroff -
Heavenletters:

How warming is a heart of love. Receiving the warmth of love is like sitting before the hearth on a cold winter night. You warm your hands. Your cheeks grow rosy. This is how life is meant to be. Warm.

Everyone would love to receive the warmth of your heart. So then, beloveds, give it. Give your love generously. Let everyone live with the expectation of receiving your love the moment you appear. When you enter a room, let all eyes turn to you as the nourisher of their hearts.

There are people like this. Whether consciously or not, there are people who love all and are generous with their love, not shy to give it, not shy to call attention to it. All eyes turn to such people. Eyes turn because it is a given that such people know how to give love and so they give it.

Whether in word or deed or in great silence, love is what they give. Those who see them enter the room they are knowing that their heart's longing for love is soon to be quelled. When the person who really knows how to love leaves the room, his love is still warm and vibrant there. It has been passed on.

Let you be one like this who gives the thirsty to drink and fills up the hearts that long for nourishment.

If you must play a role on Earth, then play the role of one who knows how to give love and gives it. Be one who looks to fill the needs of others and not to foil them. Because your love is expected is no reason for you to withhold it. It is My Will, beloveds, that you love, and that means filling other hearts and, therefore, your own.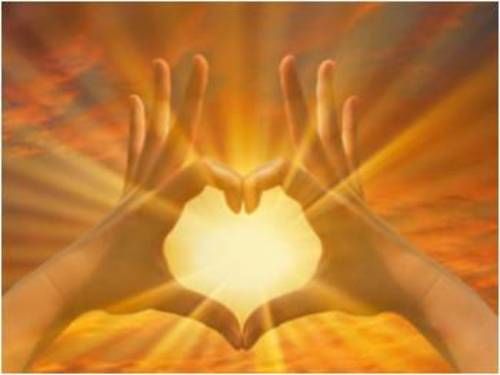 Be a sower of love.
Be the initiator and giver of love. Be like the sunshine that shines for all. The sun simply shines, and it shines for all. All are in the range of the sun. The sun asks for nothing but to shine.
Be like the sun. Let it be your request that you simply shine love. See how well you can step into My shoes. Step into them, you will, but when? But what are you waiting for, beloveds? Today is the day to start. There is no better day than the one right now. It is in your grasp.
Think of a world where you give love generously, and everyone has a heart at ease, knowing that love from you is about to appear. Oh, beloveds, seas will part for you. The whole world will welcome you. You will walk down a sunbeam and shine the light of My love on all.
What else but My love would you like to cast on the world? The world has had plenty of everything except the love it craves. The world waits and waits for more love. It has been left standing at the corner. The whole world is waiting for you. It is waiting for you to come and reveal your love.
It may be that you haven't seen your love. It may be that your love has been hiding even from you. You may have to open your eyes before others can open theirs.
Wouldn't it be lovely if love were a given? Wouldn't it be lovely if everyone today could expect love to come? To come even unbidden. To come from all sides and over and over again. What if everyone today could look forward to heaps of love coming from every which direction? What if everyone could pull out the love from their hearts and distribute it freely?
What if
you
would?
heavenletters.org