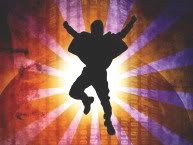 Infuse your life with energy and enthusiasm.
Put a little lift into your step. Put a little zest into your conversation. Take a little risk. Dare to say or do something different. But most of all, just love your life to pieces. Just love every moment of it. Embrace it fully, right now, exactly as it is.
Do not allow the clouds of worry, regret, fear and doubt to put a shadow between you and the glowing sunshine of joy.
Go down into your center, into the place where the only time is now, this moment. And there you find that right now, this moment, you are surrounded by love.
You are loved so deeply that if you would allow yourself to feel just one little iota of all this love, you would jump for joy.
You, exactly as you are, are deeply loved.
You, no matter what you have done or left undone, are wondrous, powerful, and deeply worthy of all of the love that is showered on you. Yes, yes, this is life! Yes, embrace it, love it. Fill your heart with joy.
Why? Because you are alive.
Because the blood still runs in your veins. Because the sun came up today and its light was shed on you. Because the moon and stars will come out tonight and shine down on you.
How blessed you are to be alive, to have this precious life, this great adventure.
Yes, this one, just as it is, right now. How blessed you are!